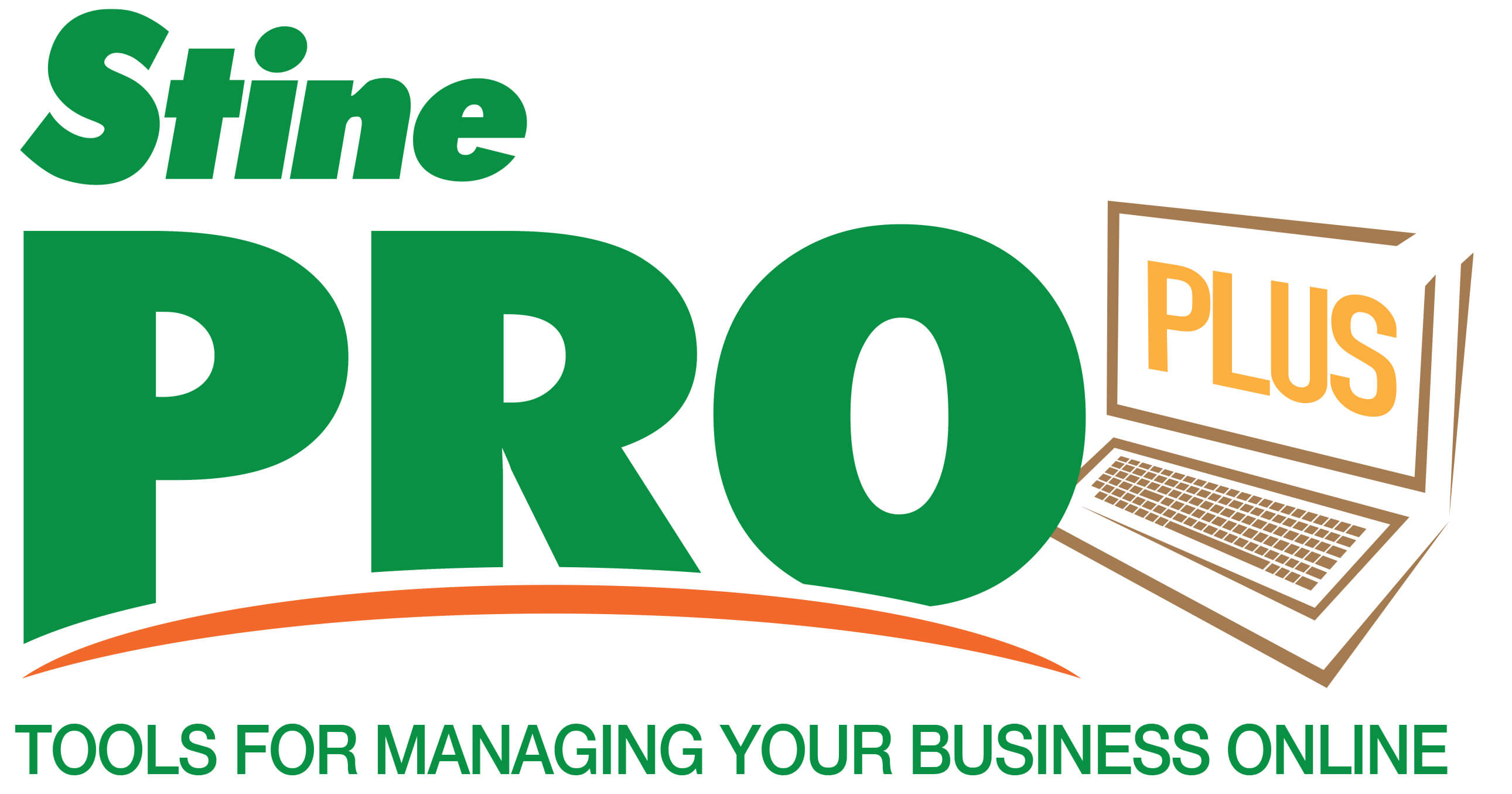 Already have a Pro Account? Sign In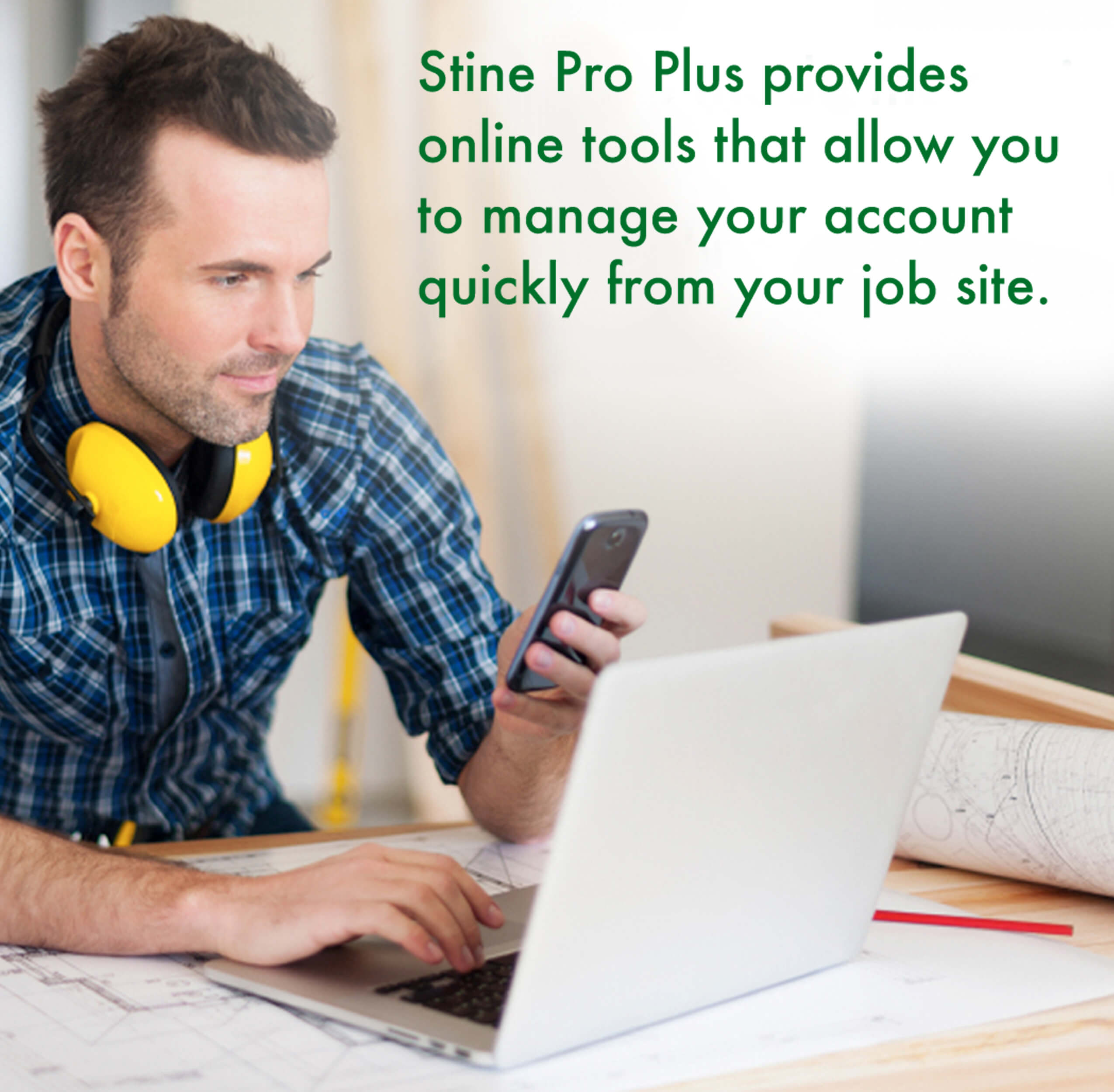 Why enroll in Stine Pro Plus?
Easy account setup and login.
24 hour online access to your quotes, orders, invoices and statements.
View signed invoices online.
View proof of delivery photos.
Download your invoices and credit details in Quick Books format.
Pay your account online.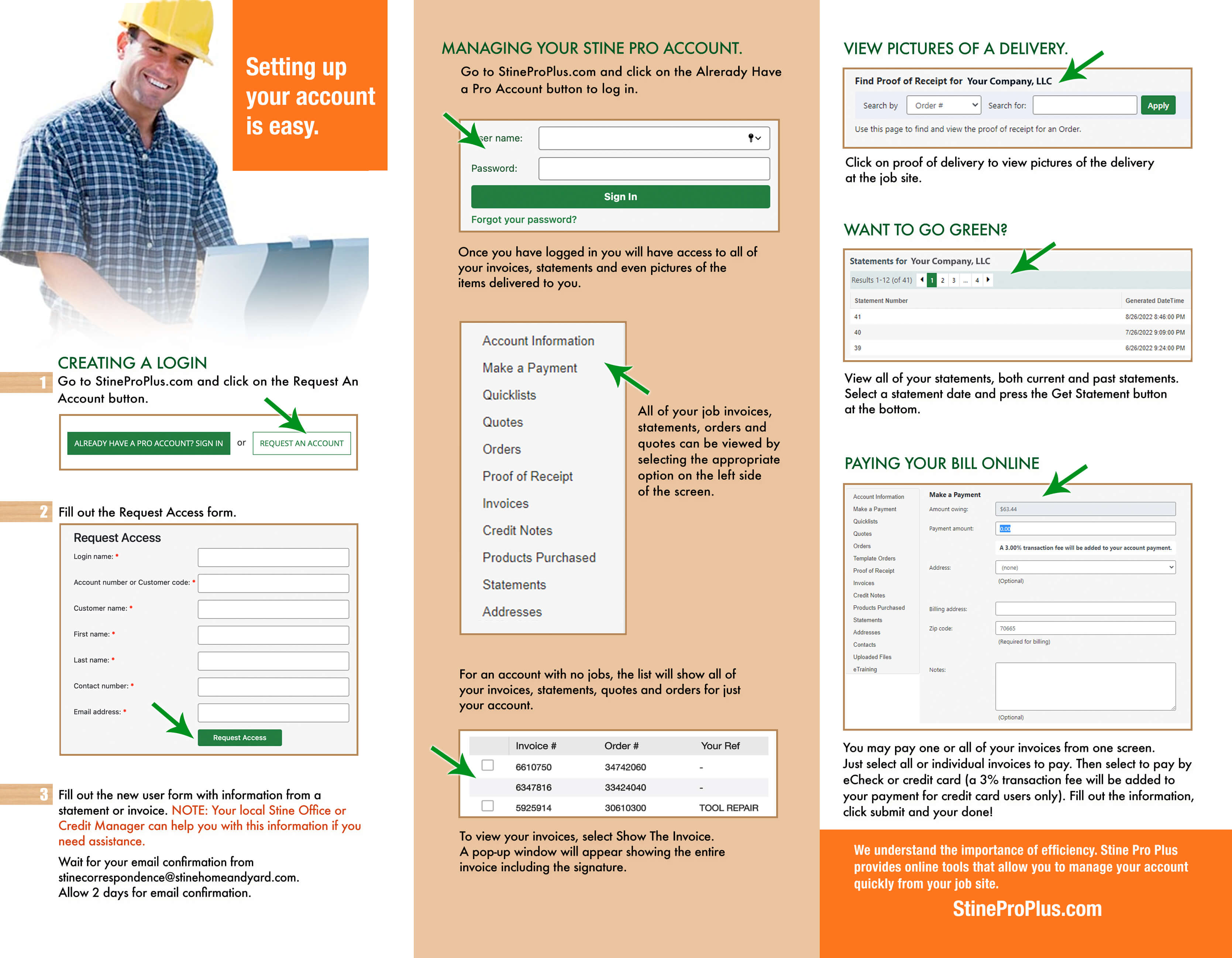 Sign Up Now, or Contact the Stine Pro Sales Team, listed below, for more information.
You may also apply for credit here
Contact a member of our Pro Sales team for assistance.
BROUSSARD PRO SALES TEAM
Office 337-837-2588 Fax 337-837-3211
Bobby Dumatrait, Pro Sales Manager: Office 337-837-2588 Ext.239, Cell 337.523.2805, bobbyd7@stine.biz
Shane Broussard, Inside Sales: Office 337-837-2588 ext. 227, shaneb23@stine.biz
Cameron Etie, Inside Sales: Office 337-837-2588 ext. 230, camerone13@stine.biz
Pat Stutes, Outside Sales: Cell 337-739-7867
Josh Stine, Outside Sales: Cell 337-781-0665, joshs7@stine.biz
Chris Romero, Outside Sales: Cell 337-476-9350, christopherr23@stine.biz
CROWLEY PRO SALES TEAM
Office 337-783-7567 Fax 337-783-5095
Christal Trahan, Pro Sales Manager: Office 337-783-7567 Ext. 206, Cell 337-591-5444, christalt9@stine.biz
Becky Boudreaux, Inside Sales: Office 337-783-7567 Ext. 202, beckyb7@stine.biz
DERIDDER PRO SALES TEAM
Office 337-462-2416 Fax 337-462-9491
Karlos Cooley, Pro Sales Manager: Office 337-462-2410 Ext. 234, Cell 337-348-9372, karlosc2@stine.biz
Pam Bailey, Inside Sales: Office 337-462-2410 Ext.203, pamb2@stine.biz
Rebecca Richmond, Inside Sales: Office 337-462-2410 Ext.208, rebeccar12@stine.biz
Billy Matlock, Outside Sales: Office 337-462-2410 Ext. 209, Cell 337-396-7853, billym2@stine.biz
Randy Bailey, Outside Sales: Office 337-462-2410 Ext. 239, Cell 337-396-8999, randellb2@stine.biz
IOWA PRO SALES TEAM
Office 337-582-3586
JENNINGS PRO SALES TEAM
Office 337-824-0910 Fax 337-824-4293
Matt Champagne, Pro Sales Manager: Office 337-824-0910 Ext.125, matthewc23@stine.biz
Joey LaFleur, Outside Sales: Office 337-824-0910 Ext.124, Cell 337-884-6626, joeyl4@stine.biz
LAKE CHARLES PRO TEAM
Office 337-477-7588 Fax 337-478-5031
Joey Buckley, Pro Sales Manager: Office 337-477-7588 ext. 1333, Cell 337-912-4810, joeb1@stine.biz
Cody Ware, Inside Sales: Office 337-477-7588 ext. 1306, codyw11@stine.biz
Angie Fontenot, Inside Sales: Office 337-477-7588 Ext.1329, angie.fontenot@stine.biz
Aaron Peloquin, Outside Sales: Cell 337-526-0964, ext. 1308 aaronp3@stine.biz
Tony Tucker, Outside Sales: Cell 337-526-0078, ext. 1334 tonyt3@stine.biz
Leroy Doucet, Outside Sales: Cell 337-515-5471, ext. 1376 leroyd3@stine.biz
NATCHEZ, MS PRO SALES TEAM
Office 601-446-6487 Fax 601-446-6063
Melvin Davis, Pro Sales Manager: Office 601-446-6487 Ext. 36, Cell 601-660-3500, melvind10@stine.biz
Bill Stahlman, Inside Sales: Office 601-446-6487, bills10@stine.biz
Tony Aycock, Outside Sales: Office 601-446-6487 Ext. 34, Cell 601-660-3807, anthony20@stine.biz
NATCHITOCHES PRO SALES TEAM
Office 318-214-0192 Fax 318-214-0073
Chuck Barrios, Pro Sales Manager: Office 318-214-0192 Ext. 228, Cell 318-228-5721, chuckb8@stine.biz
Kim Davis, Inside Sales: Office 318-214-0192 Ext. 209, kimberlyd8@stine.biz
James Bragg, Inside Sales: Office 318-214-0192 Ext. 220, jamesb18@stine.biz
PINEVILLE PRO SALES TEAM
Office 318-487-8586 Fax 318-487-8066
Beau Edwards, Pro Sales Manager: Cell 318-201-3185, beaue21@stine.biz
Andrea Walker, Inside Sales: Office 318-487-8586, andreaw16@stine.biz
Greg Terry, Inside Sales: Cell 318-487-8586, gregt21@stine.biz
Hardy Pippen, Outside Sales: Cell 318-447-7660, hardyp16@stine.biz
Bart Allman, Outside Sales: Cell 318-264-5172, bartona21@stine.biz
SULPHUR PRO SALES TEAM
Office 337-527-5067 Fax 337-527-2708
Blaine Prudhomme, Pro Sales Manager: Office 337-527-5067 Ext.141, Cell 337-485-0221, blainep1@stine.biz
Tina Matte, Inside Sales: Office 337-527-5067 Ext.143, tinam1@stine.biz
Adysen Ray, Inside Sales: Office 337-527-5067 Ext. 114, adysenr11@stine.biz
Brian Vassar, Outside Sales: Office 337-527-5067 Ext.142, Cell 337-802-6276, brianv1@stine.biz
Katie Stine, Industrial Sales: Cell 337-476-7614, katies11@stine.biz
Brad Leblanc, Outside Sales: Cell 337-488-8308, bradl11@stine.biz
WALKER PRO SALES TEAM
Office 225-667-7879 Fax 225-665-4922
Mike Sharp, Pro Sales Manager: Office 225-667-7879 ext. 222, Cell 337-936-9189, mikes22@stine.biz
Sherri Bailey, Inside Sales: Office 225-667-7879, sherrib22@stine.biz
Robyn Golmon, Inside Sales: Office 225-667-7879 ext. 202, robyng8@stine.biz
Greg Archer, Outside Sales: Office 225-667-7879, Cell 225-241-8146, gregorya22@stine.biz
Jeff Scott, Outside Sales: Office 225-667-7879 ext. 201, Cell 225-678-6727, jeffs22@stine.biz
Stine Specialty Groups
Appliance Install Office: Cell 337-533-8210, daimona@stine.biz